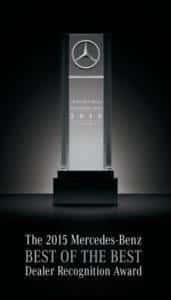 ---
Mercedes-Benz of Baton Rouge Wins the Mercedes-Benz Best of the Best Award for 2016!

---
Mercedes-Benz of Baton Rouge is a proud recipient of the Best of the Best Dealer Recognition Award from Mercedes-Benz. Awarded to the top 15% of dealers in the Mercedes-Benz retail network, this award recognizes superior customer service and management in the Mercedes-Benz community. Our award-winning new inventory, auto service, and parts selection set us apart from other dealers in and around Baton Rouge, and is exactly why we've triumphed in our first years of business.
Excellence Across the Board
The Best of the Best Dealer Recognition Award is more than a badge of honor; it's a quality guarantee. Distributed yearly, the award distinguishes select dealers for their dedication to excelling in every department of the dealership, such as:
Customer Service and Satisfaction
Management and Leadership
New Vehicle Sales
Auto Service and Parts
From our sales department to our auto care center, Mercedes-Benz of Baton Rouge continues to provide customer-focused service – as demonstrated by our three Best of the Best recognitions.
Loyalty, Integrity, and Dedication
In the Mercedes-Benz community, the Best of the Best dealers display ongoing commitment to making the Mercedes-Benz name synonymous with satisfaction. Stephen Cannon, President and CEO of MBUSA, stated, "Our Best of the Best dealers are more than just great car dealerships." Cannon added that each represents "…a community of people whose loyalty, integrity, and dedication to our customers make them an invaluable part of the Mercedes-Benz family."
Continuing to Set the Bar
At Mercedes-Benz of Baton Rouge, we embody the essence of Mercedes-Benz by employing entrepreneurial and business prowess to deliver excellent customer service at every turn. All facets of our dealership operate with Baton Rouge -area customers in mind. To us, a dealership is only as successful as its customers are satisfied.
Be it new vehicle sales, auto service, or parts transactions, we treat each exchange as a reflection of the Mercedes-Benz brand.
Partner with an Award-Winning Dealer!
Let us show you why we're ranked among the top Mercedes-Benz dealers in the country!
---
---
Dealer of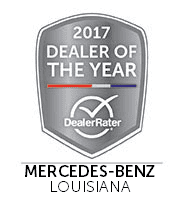 the Year awards are given annually to the top U.S. and Canadian car dealers based on a Bayesian algorithm called PowerScore™, which considers the dealership's average DealerRater star-rating as well as the total number of reviews written about the dealership during the 2016 calendar year. Categories for scoring include customer service, quality of work, friendliness, pricing and overall experience.
"Our Dealer of the Year Award winners should be proud of this important distinction, which makes it clear to car buyers that their dealership is highly regarded for its customer experience," said Gary Tucker, CEO of DealerRater. "Customer experience is where today's deals are won and lost, and DealerRater makes it easy for shoppers to find the experience they are looking for while connecting with the right person at the right dealership."
---
DealerRater's annual recognition program for top car dealerships in the U.S. and Canada.  Only 3 Mercedes-Benz dealerships in the State of Texas were honored with this award.
---
---